SharePoint Online
Manage your documents online with SharePoint Online, a cloud-based service. Designed to be on the cloud, this service is much simpler and quicker. It helps you to develop sites, share documents and data with colleagues, employees, and clients. One of the best things about SharePoint Online is that it allows you to share vital documents faster online as well as offline.
Contact Us
View Work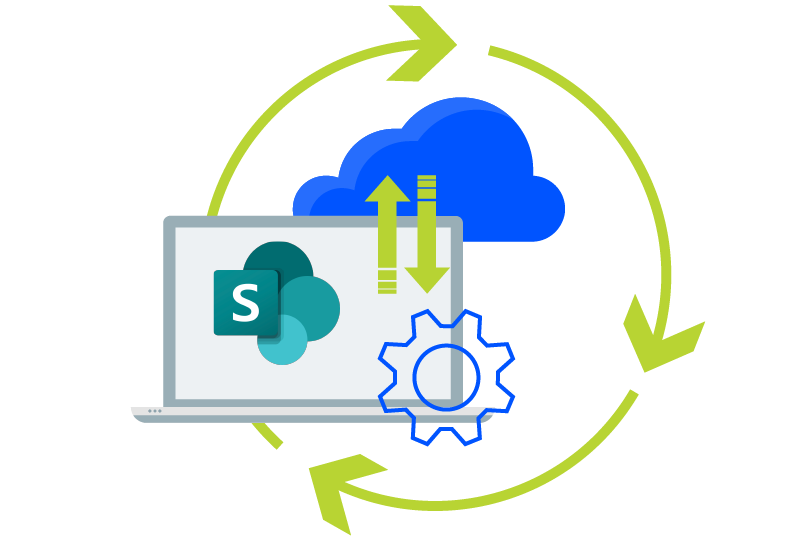 SharePoint Online Key Features:
Share and manage vital documents online and offline

Allows you to keep your team coordinated with the ongoing project

Stay updated with company news and other information

Invite external people to work on current projects and documents

Incorporate it with various Microsoft Office Applications

Share documents securely with clients, partners, and team-mates
Benefits of Adopting SharePoint Online:
It is secure from system crash as it based on Cloud

With a predefined interface, it is simple to use

Keeps you updated with company updates and news

Your team can function faster by interacting with document online

It saves both space and time
Create your documents and information with SharePoint Online. It is suitable for both small scale and large industry professionals. Also helps them to concentrate on the set-up and marketing.

Consulting
That is the best path to SharePoint for your organization? How do you know which applications to host in the SharePoint —and which SharePoint features are the best fit?

Development
SharePoint has today become the most preferred platform for content, document and record management, business collaboration, intranet and extranet corporate portals, and many more opportunities.

Migration
SharePoint is considered as one of the most powerful business tools with the best interface and great features. Being a technology it requires regular upgradation to the latest versions. Hence the migration process is much important.

Support
We at Experts of SharePoint offer end to end solutions to our client's right from consultancy to implementation and support. Whether you're just beginning with SharePoint or you have already deployed SharePoint, we are always there to support you with your varied requirements throughout the implementation life cycle.
Why Prakash Software Solutions for SharePoint Online?
Our SharePoint services are designed in a manner to boost your business growth. Below mentioned services describe our approach to SharePoint supporting your organization.
We concentrate on the rapid changes within the SharePoint Arena
We are a bouquet of SharePoint experts dedicated to solving your business queries. We understand, align, and customize SharePoint to your mission and vision.
We wish to be your extended support department. We handle the technical and you handle the rest.
So, don't wait more, Try SharePoint Online today with Prakash Software Solutions, Call us on +91 265 277 55 55 and get a free quote NOW!