SharePoint Work Flow
SharePoint workflow is aimed at managing project tasks by executing a business process on documents, items in a SharePoint site, and collaborating documents. Workflow serves organizations by improving their potential, ensuring consistent business growth and management via several steps. It helps in managing your task cleverly and allows you to concentrate on performing your task.
Contact Us
View Work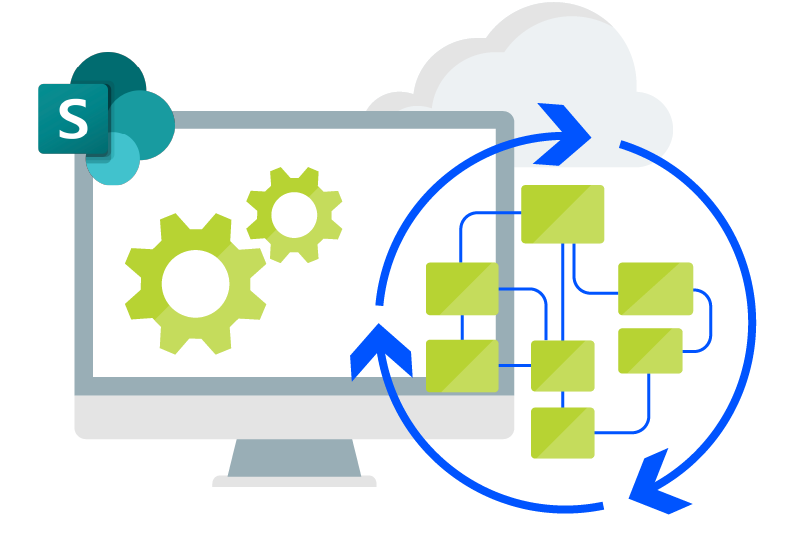 Latest SharePoint workflow features Include:
Pluggable Workflows

Office Visio SharePoint Workflows

Site Workflows & Reusable Workflows

Workflow Templates in SharePoint Designer

Customizing the Out-of-Box Workflows

Task Processing Customization
Benefits of Adopting SharePoint Workflow:
From the point when the authors begin their work on a document of a particular library, the workflow enhances document approval tasks, allocates the tasks to the member, send them email alerts about instructions, and the link of documents that needs to be improved. SharePoint workflow works amazingly with the workflow owner and participants. Get instant notifications upon the completion of the task by workflow participants so that you access it without delay.
The notable part of SharePoint workflow is that the owner gets all the updates of the workflow. The Owner can check the progress, status, and updates upon the completion of the work.

Consulting
That is the best path to SharePoint for your organization? How do you know which applications to host in the SharePoint —and which SharePoint features are the best fit?

Development
SharePoint has today become the most preferred platform for content, document and record management, business collaboration, intranet and extranet corporate portals, and many more opportunities.

Migration
SharePoint is considered as one of the most powerful business tools with the best interface and great features. Being a technology it requires regular upgradation to the latest versions. Hence the migration process is much important.

Support
We at Experts of SharePoint offer end to end solutions to our client's right from consultancy to implementation and support. Whether you're just beginning with SharePoint or you have already deployed SharePoint, we are always there to support you with your varied requirements throughout the implementation life cycle.
Try Prakash Software Solutions & Work with difference!
Our SharePoint services are designed in a manner to boost your business growth. Below mentioned services describe our approach to SharePoint supporting your organization.
We concentrate on the rapid changes within the SharePoint Arena
We are a bouquet of SharePoint experts dedicated to solving your business queries. We understand, align, and customize SharePoint to your mission and vision.
We wish to be your extended support department. We handle the technical and you handle the rest.