Identity Management Solution
Business Case
The Clienthad a need to manage the IT identity for internal as well as external users, like Consultants, Temporary employees, Vendors, Suppliers, Customers, etc.
UMSolution (UMS) is a Role Based Identity Management tool through which organization can control user's corporate IT identity according to Roles (Job Function), IT Security rules, and compliance.
Contact Us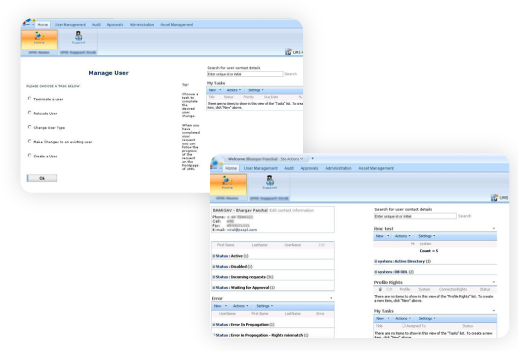 Products and Services used
The objectives of implementing UMS are:
BUSINESS CONTROL
UMS enables the company to fully administer user access rights from an easy-to-use and user friendly interface based on users' job function (role).
SECURITY
UMS introduces a secured structure that enables the organization to maintain control over access of documents within the organization driven by strict policy implementation.
COMPLIANCE
UMS enables the business to meet regulatory demands of CoBit, SOX (Sarbanes-Oxley), Euro-SOX and other related frameworks. UMS will secure World-Class compliance in relation to user and access management.
FREE UP RESOURCES
UMS will transfer the burden of user management from highly-skilled IT professionals to administrative personnel – supported by management approval workflows.
UMS is an efficient and financially effective solution which enablesthe organization to add, change and terminate users across all infrastructure, hardware and applications.
UMS is based on Microsoft SharePoint (MOSS 2007) and enable non-technical personnel to administer user's access to company information systems and applications.
UMS is supported by approval workflows and Separation of Duties functionality (SoD) which allows e.g. financial and biotech industry to use this on regulated areas. Furthermore it gives a full audit track of all actions taken.
The SoD and audit track function will enable your business to meet the compliance demands of e.g. SOX, FDA, BASEL II and other frameworks.
With UMS you can control user's corporate identity according to Role Based Access Control
UMSolution supports Oracle, Microsoft SQL Server, Active directory, Ole db and LDAP compliant systems. As UMSolution is SharePoint based, it can also be customized to use the sign on facility you are currently using for your intranet solution.
This is good news for both management and IT team members. Management can now utilize their costly technical professionals to productive task instead of rights and identity management which should be a routine part of general administration.

Consulting
That is the best path to the SharePoint for your organization? How do you know which applications to host in the SharePoint —and which SharePoint features are the best fit?

Development
Today SharePoint is a highly adopted platform for content, document and record management, intranet and extranet corporate portals, business collaboration and many more opportunities.

Migration
SharePoint is considered a Powerful business Tool with great features and interface comes with it. As it is a technology, it needs to be upgraded time to time with latest versions available and so becomes migration process important too.

Support
We at Prakash Software Solutions, offers end to end solutions right from consultancy to implementation and support. Whether you're just getting started with SharePoint or have already deployed SharePoint, we can help you with your varied requirements throughout the implementation life cycle.