Real Estate Broker
Business Case
The company wanted to develop a website for Homeowners, Home Buyers, Realtors, Title Companies, Lenders, Designers, Mortgage Brokers, and Contractor for sale of Property, Community and Floor plan with secured free account or paid account.
Following are the main objective that client wanted to achieve though the innovative ideas.
Generating of new business through online marketing of their product and services.
Management Information System for their stake holders.
Decision Making System for their customer / prospects.
Business Process Automization
Help Desk Services
Customer Relationship Management
Contact Us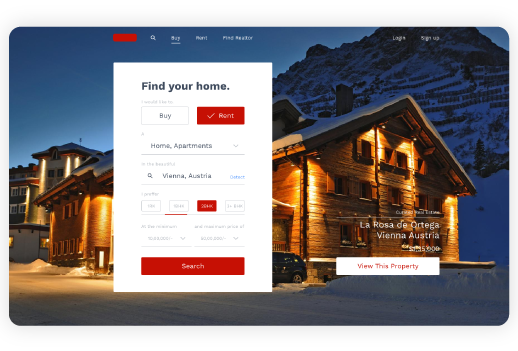 Products and Services used
Customization of SharePoint master page to achieve the design.
Map tool implementation to facilitate creating map for the community.
Image preloading.
Refactoring to enhance the performance.
Cross browser compatibility

Image preloading and Refactoring to enhance the performance.

Using SharePoint 2007 and WSS 3.0 we have provided a "out of the box" business solutions. Due to the ease of use at development level, readymade features we able to achieve the result beyond the client expectation.
Easy to deploy facility which is provided by web part.(Creation Deployment)
User Management System for Administrator
Site Branding
Faster search of information.
User /Customer Management.
Detailed information about Community / Floor Plan / Property
Easy to map location (Community /Floor plan / Property)
Schedule – Appointments of Owner / Buyer / Agents
Photo Gallery ( Interior/ Exterior)

Consulting
That is the best path to the SharePoint for your organization? How do you know which applications to host in the SharePoint —and which SharePoint features are the best fit?

Development
Today SharePoint is a highly adopted platform for content, document and record management, intranet and extranet corporate portals, business collaboration and many more opportunities.

Migration
SharePoint is considered a Powerful business Tool with great features and interface comes with it. As it is a technology, it needs to be upgraded time to time with latest versions available and so becomes migration process important too.

Support
We at Prakash Software Solutions, offers end to end solutions right from consultancy to implementation and support. Whether you're just getting started with SharePoint or have already deployed SharePoint, we can help you with your varied requirements throughout the implementation life cycle.